Many people find it useful to save individual profiles in a folder, so they can review them at a later date or share them with colleagues.
Use case example: if you are recruiting for a project or sourcing experts for a proposal with a colleague or team, you could save a number of profiles in a folder and then make notes on particular profiles. These could be about the individual's relevance for the job, status of invitation, or any information of note regarding the individual. Then your colleague can respond to your note, so you can incorporate your communication into your workflow. You can delete notes whenever you like.
Add to folder

To do this, simply tick the box on the right of the snapshot of any of the relevant profiles and select Add to folder from the navigation bar above the list. Then name the folder and click save. Alternatively click the little folder symbol underneath the profile and select an existing folder.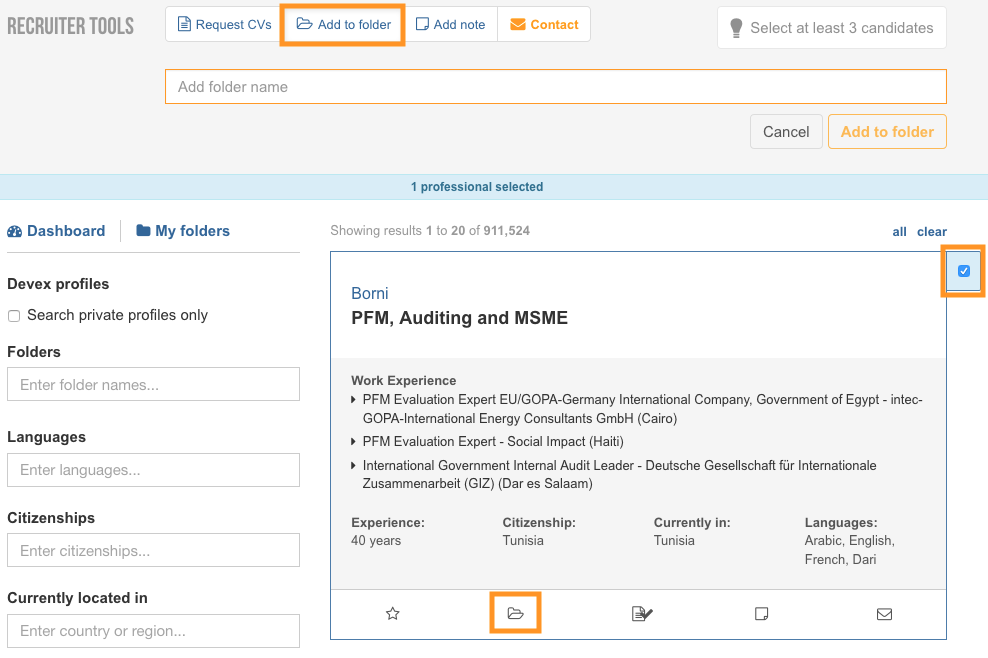 You can add multiple or individual profiles at once. For example, if you wanted to select all 20 profiles on a page, just select all and each little box beside the profile will be selected.
Note: All folders are shared among those that have recruitment access under your membership.You can see all folders by clicking on "My Folders" above the list of candidates or by going to the the Recruiter Dashboard.
When searching through candidates you can then use the folders filter to search through specific folders.
Adding notes
There is an option to add notes to profiles. These notes are only seen by those with recruitment access under your membership. By incorporating Devex into your workflow while recruiting, it's easier to share information with colleagues.
To add a note tick the little box on the right of the snapshot of any of the relevant profile, or profiles if you'd like to add information to multiple profiles at once.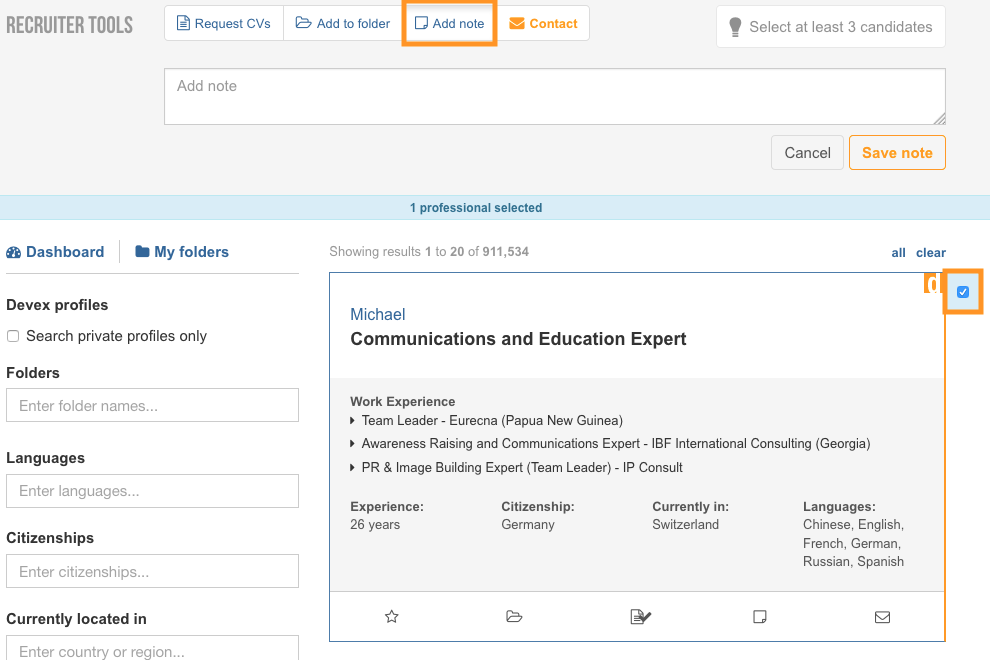 When searching through folders, you will see the icon on particular profiles with notes on them, and can get a preview of the note if you hover over it.
You can also view the notes once you have clicked into the individual profile, others can add a note underneath if they want to. You can also easily delete notes.