Each day, individuals share their professional experience on their individual Devex profiles, new past project information is added to the Devex contract awards database, and Devex news articles reference work by organizations. By gathering this content in one place, those seeking more insight on other organizations can quickly discover it, and organizations can take advantage of the Devex platform to showcase their experience to the international development community.
The idea behind it is, that in today's development sector transparency and trust is key, organizations must go beyond telling their story, to showing it.
1. Summary & Overview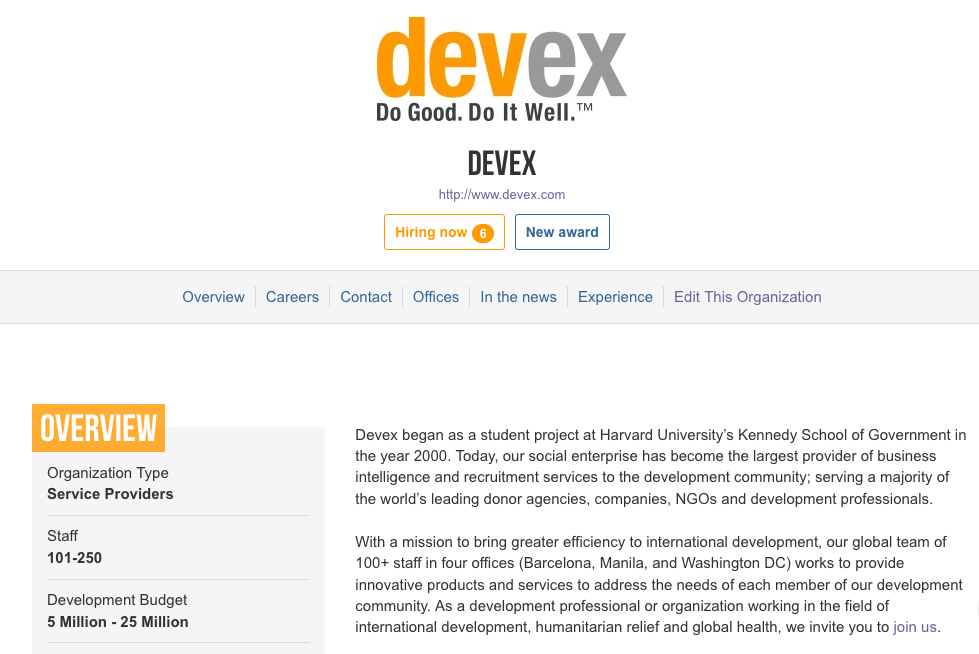 The Overview section and summary paragraph introduce your organization's story, our team uses the content on your website to curate this. If you'd like to edit it, just let us know.
The "hiring now" notification below the logo shows how many jobs are currently posted by the organization on Devex. Similarly, there will be a notification of a "new award" if the organization has recently been awarded a new contract.
2. Where is the organization?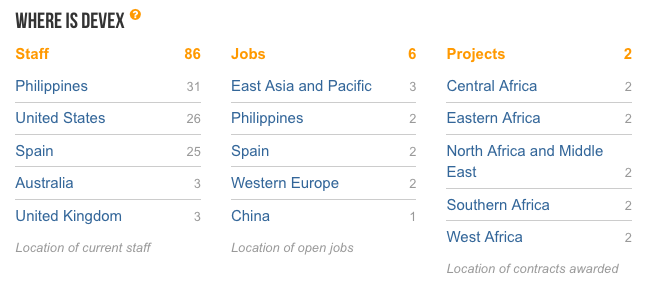 Staff
Where your experts, consultants and staff are located across the globe indicates the breadth of your network and work within the development sector. The locations listed here reflect just that, showing where those that have named your organization as an employer are based.
Jobs
Although you may not have posted all your jobs on Devex, these countries and regions represent where you have been actively recruiting, in turn demonstrating where you have been engaged with the development sector.
Projects
Highlighting your previous project experience is key when attracting potential partners and expanding your network. By including the locations of these projects, others can quickly see the geographic span of your experience.You can easily add locations to this list by sending past project information to us.
3. Careers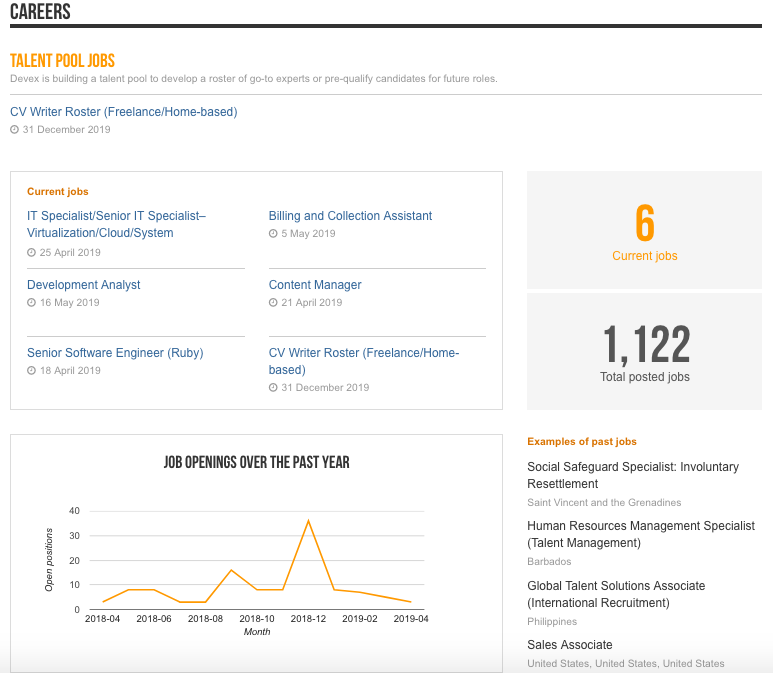 By offering a picture of your current and past recruitment activity on Devex, those who visit the page can better understand the organization's current and past activity, identifying particularly active and less active phases of recruitment throughout the past year.
4. Staff Experience

By leveraging the valuable insight provided on staff Devex profiles, this section highlights the predominant sector, funder and country experience across your team.
Through encouraging the experts on your team to create and complete their individual Devex profiles accurately, you can convey the strengths within your organization. In doing so, the organization is better positioned for future partnerships, and has increased its brand exposure on Devex.
5. Contact & Office information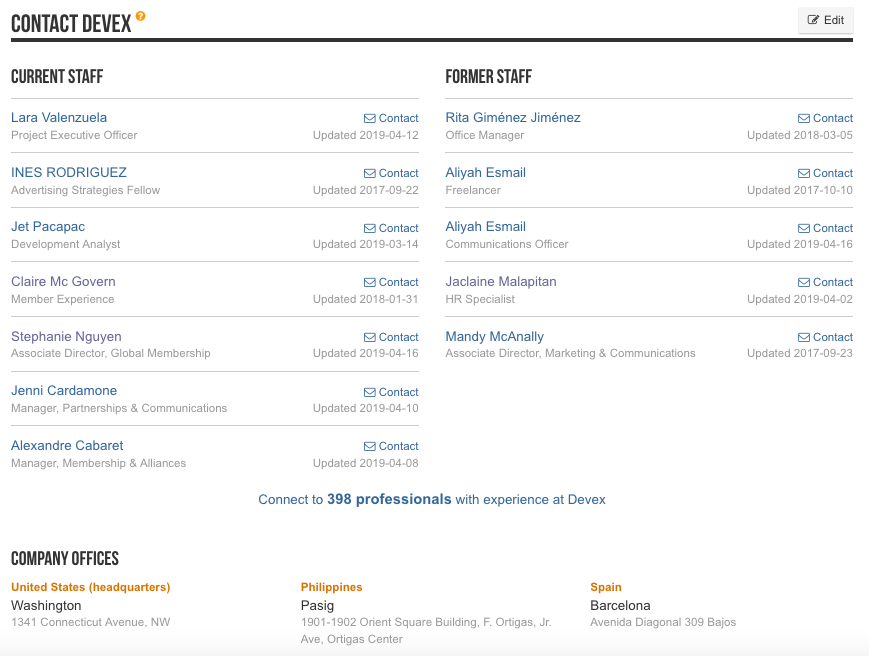 It has never been more important to forge partnerships within the international development community. By giving external facing team members more visibility, this section acts as a go-to place for contacting the right person to expand networks and progress partnerships.
As an Administrator, it's easy to edit the list of those featured by just clicking on the edit button on the right, and then removing or adding individuals that have a profile on Devex.
Our team gets office location information from organization's website, they're happy to add or remove offices on request.
6. In the News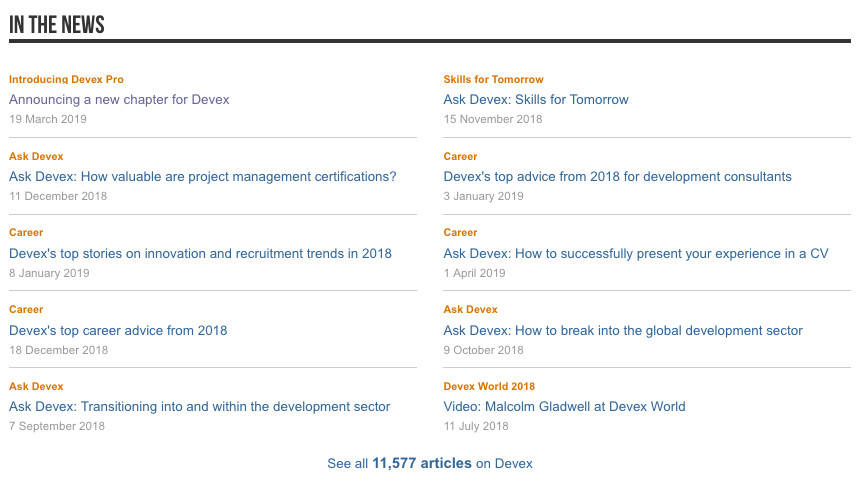 Devex members learn as much about an organization's work from Devex news articles as they do from past project information.
This section offers a birds eye view of these articles - with all those published on Devex that reference the organization name automatically listed.
7. Experience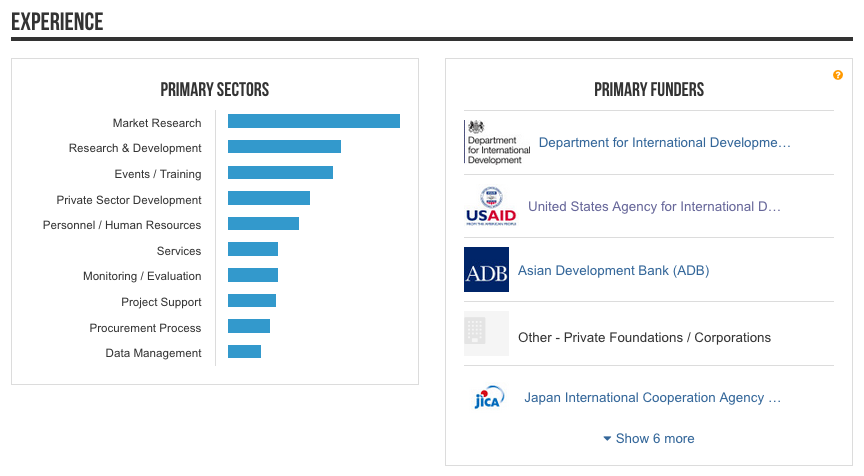 The experience your organization has is shown in this section, by compiling the sector and funder information on individual staff Devex profiles with that within contract awards entries, this captures the overall picture.
As the team completes their individual profiles and there's more past project content added to the contract award database, a stronger picture will be presented.
8. Contract Awards

Those contract awards that have been most recently added to the Devex database are highlighted here.
Much of this information is shared by the larger donors publicly, but if you work with a donor that may not share as much, please send it on to us and we can add the information to the database.