In this article, we will help you out with a few tips about your Devex profile. Since your profile serves as your handy CV in the Devex community of international development professionals, it plays a huge part in setting first impressions with the recruiters of hiring organizations. Making sure that you've filled out your Devex profile completely, is already half the battle. So make sure that you do this before you begin your job search! (For the exact steps on how to fill out your Devex profile, click HERE.)
1. Personal Information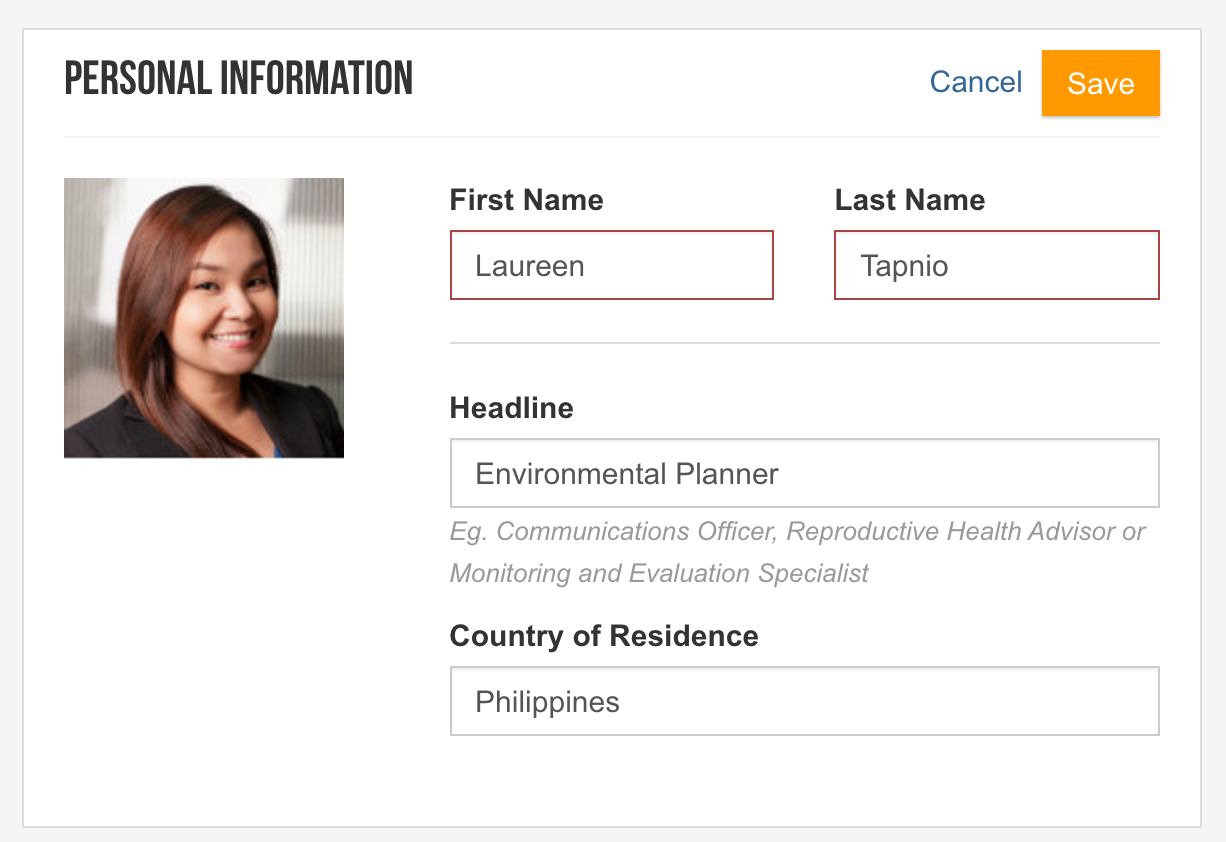 The Personal Information section requires your First Name, Last Name, Headline and Country of Residence.
What is a Headline? You could enter your current job title here, but you may also use a descriptive phrase, if you feel like your current job title does not fully capture what you do. This is a one-phrase summary that recruiters will see right away, when they check your profile.
If you need some tips with setting your profile's Headline, you may refer to our article "2 who's and 1 what: How to craft and sell your elevator pitch"
2. Professional Summary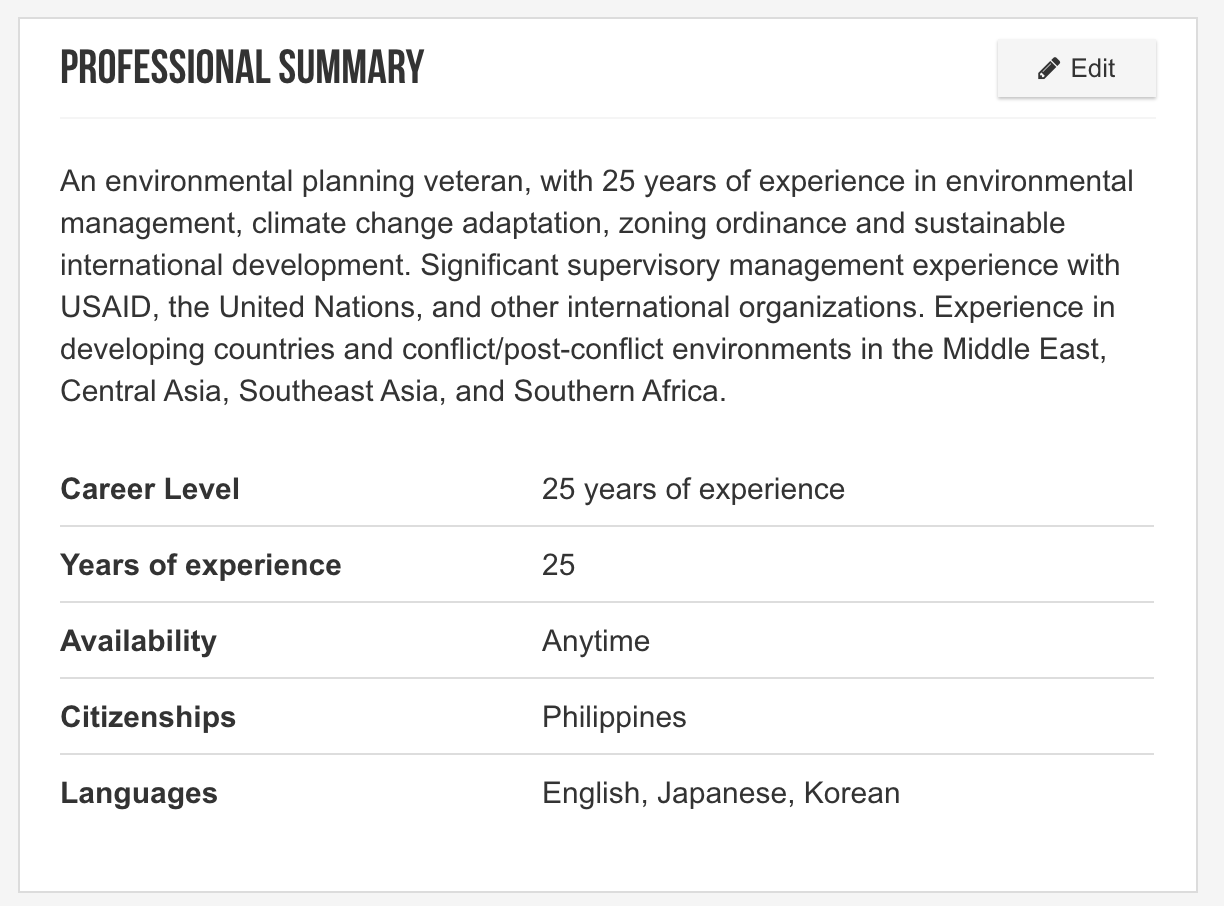 The Summary field under the PROFESSIONAL SUMMARY section is where you type in a brief summary about who you are as a development professional. This should simultaneously serve as your branding statement for yourself, as well as the space to set the career direction that you're interested in pursuing.
You may only add up to three citizenships, and five languages. If you can speak more than five languages, you may list them in the Summary field, or in the Skills & Expertise section.
Note:
Please make sure that the countries for

Citizenship

and languages that you enter are current. That is, you indeed have existing citizenship with the country, and the language you've indicated is something that you could comfortably use when working.
The Experience Snapshot section of your Devex profile is system generated based on keywords found in your profile details and attached CV. If the details on your Experience Snapshot are inaccurate, you may hide this section instead. Just click on the tick box beside Show Snapshot to temporarily hide this information.
* This is available under Professional Summary, just click edit and scroll down.

3. Skills & Expertise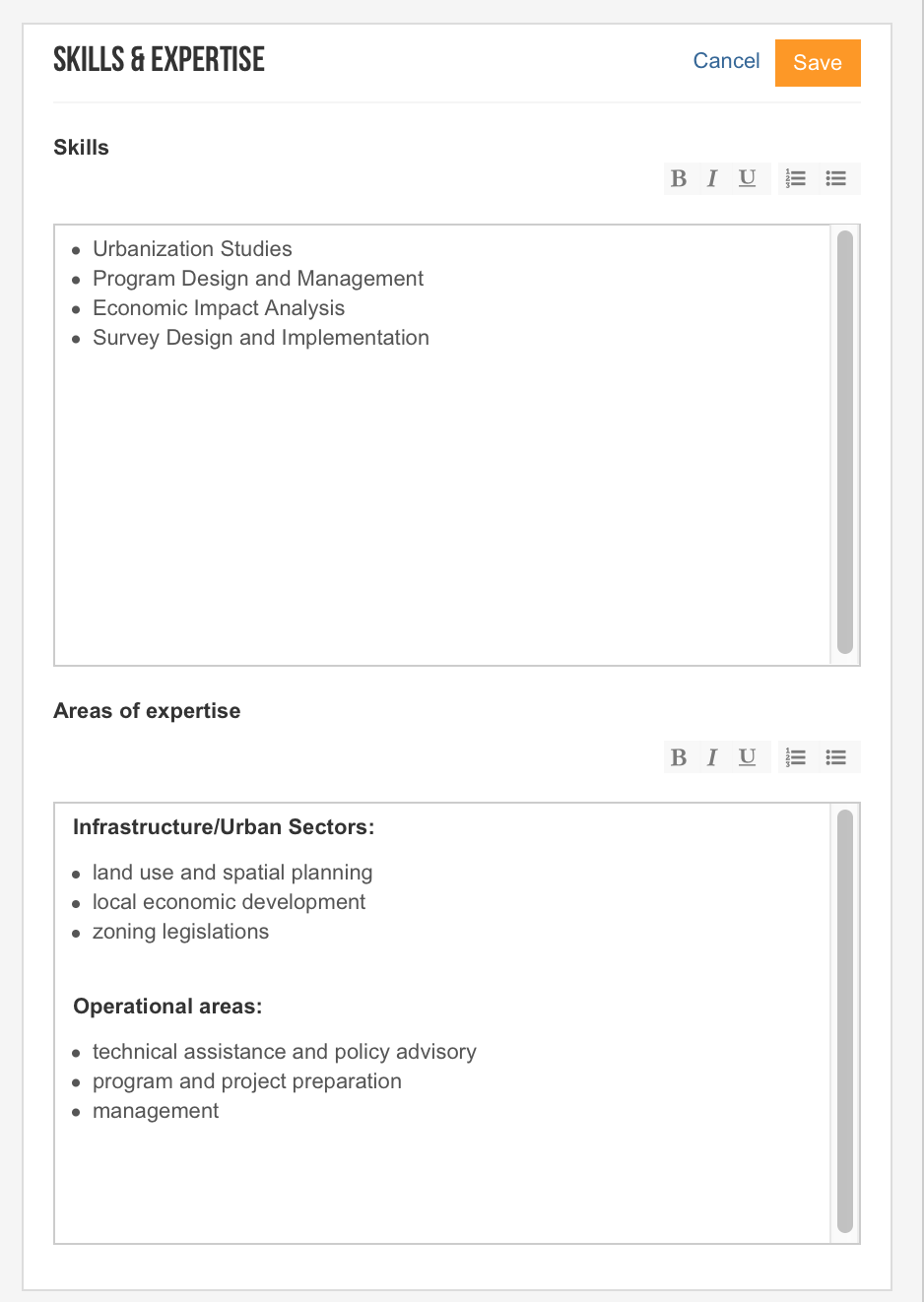 The Skills & Expertise section is now your perfect opportunity to back up your Professional Summary. Here, you can either enumerate all skill sets and areas of expertise, or write them in a paragraph form. There are even formatting buttons available to help with some keywords that you'd like to emphasize.
Note: Think of expertise as the specialization that you have in your sector. The skills, on the other hand, is the set of skills that you normally share with your peers in your profession. E.g. Skill: Urban Planning; Expertise: Transportation Planning
4. My Work (Employment History)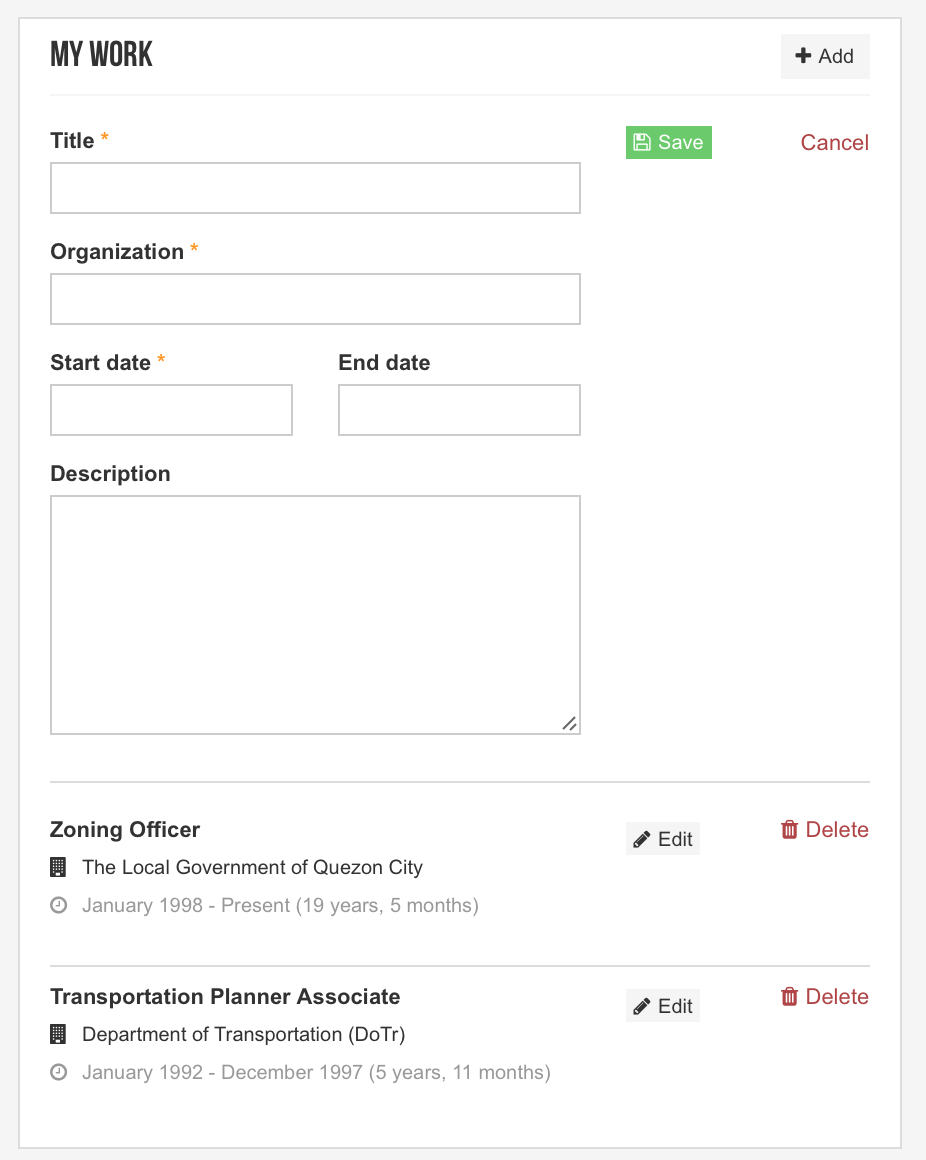 You will need to upload your most recent CV to your Devex profile but this does not mean that you'll leave your Employment History section empty. Remember that recruiters who frequent our candidate database are able to search for candidates using keywords. The keyword search would most definitely include those found in the Employment History section of your profile. So aside from completely filling out the Employment History section of your profile, make sure that it is up-to-date.
5. Education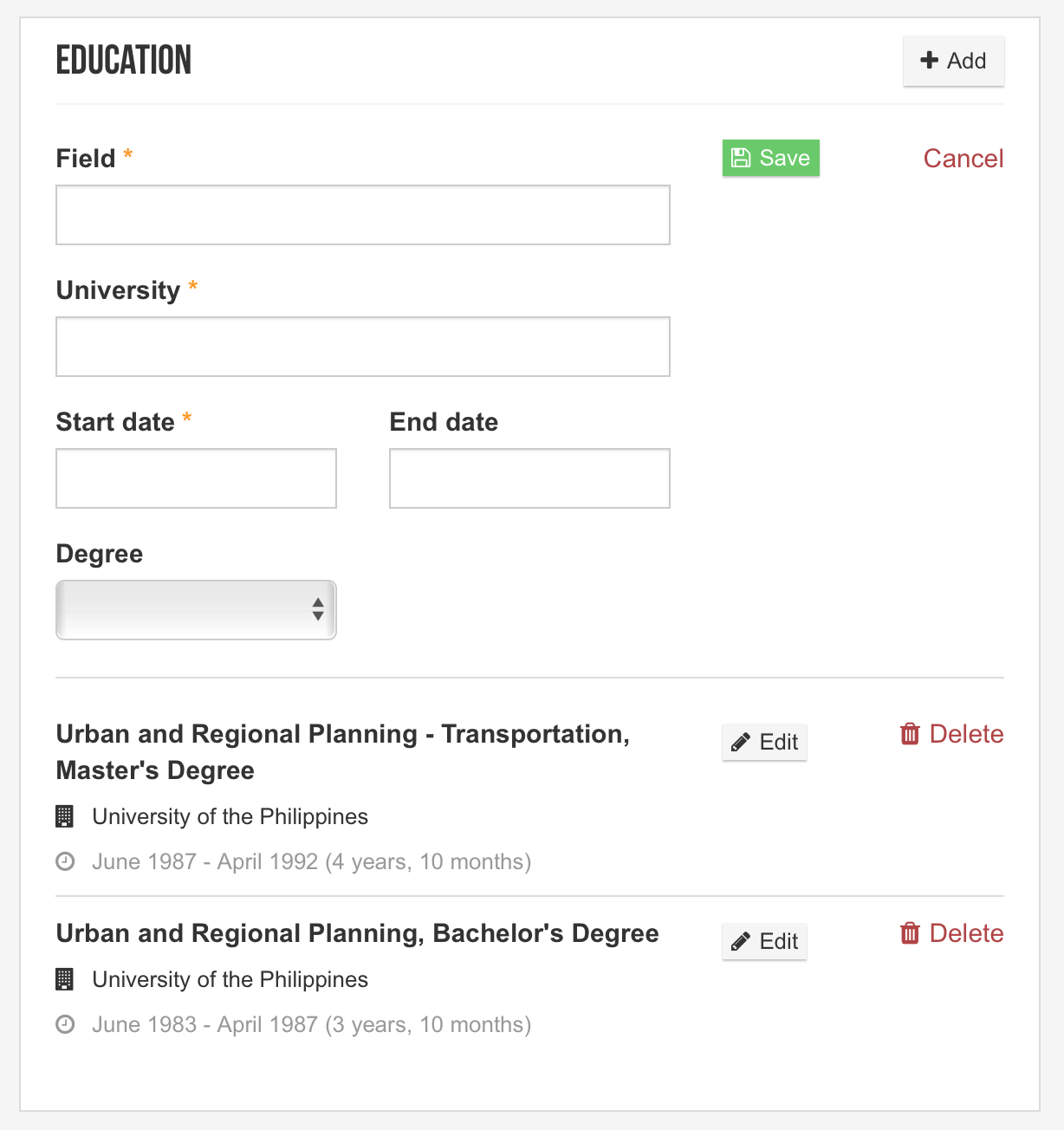 The Education section of your Devex profile should also reflect the full list of universities that you've attended. In the event that your degree is not listed under the Degrees pull-down menu, just contact us so we could request its inclusion.
6. CVS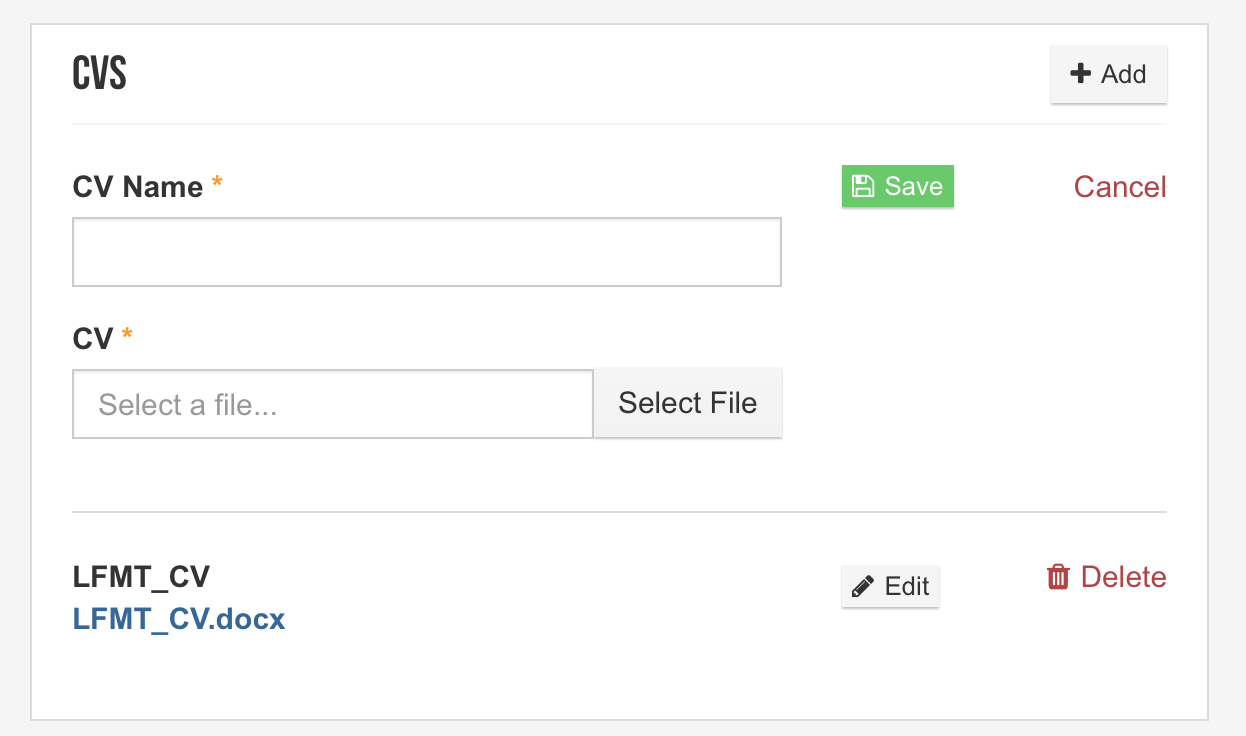 Make sure that your uploaded CVs are updated and that you use file names that would make it easy for recruiters' use. Since you may upload several CVs, you may also tailor your CVs according to the skills that you're good at. E.g. CV Name: Monitoring and Evaluation_John Smith
For the steps on how you will upload your CV, just click HERE.
7. References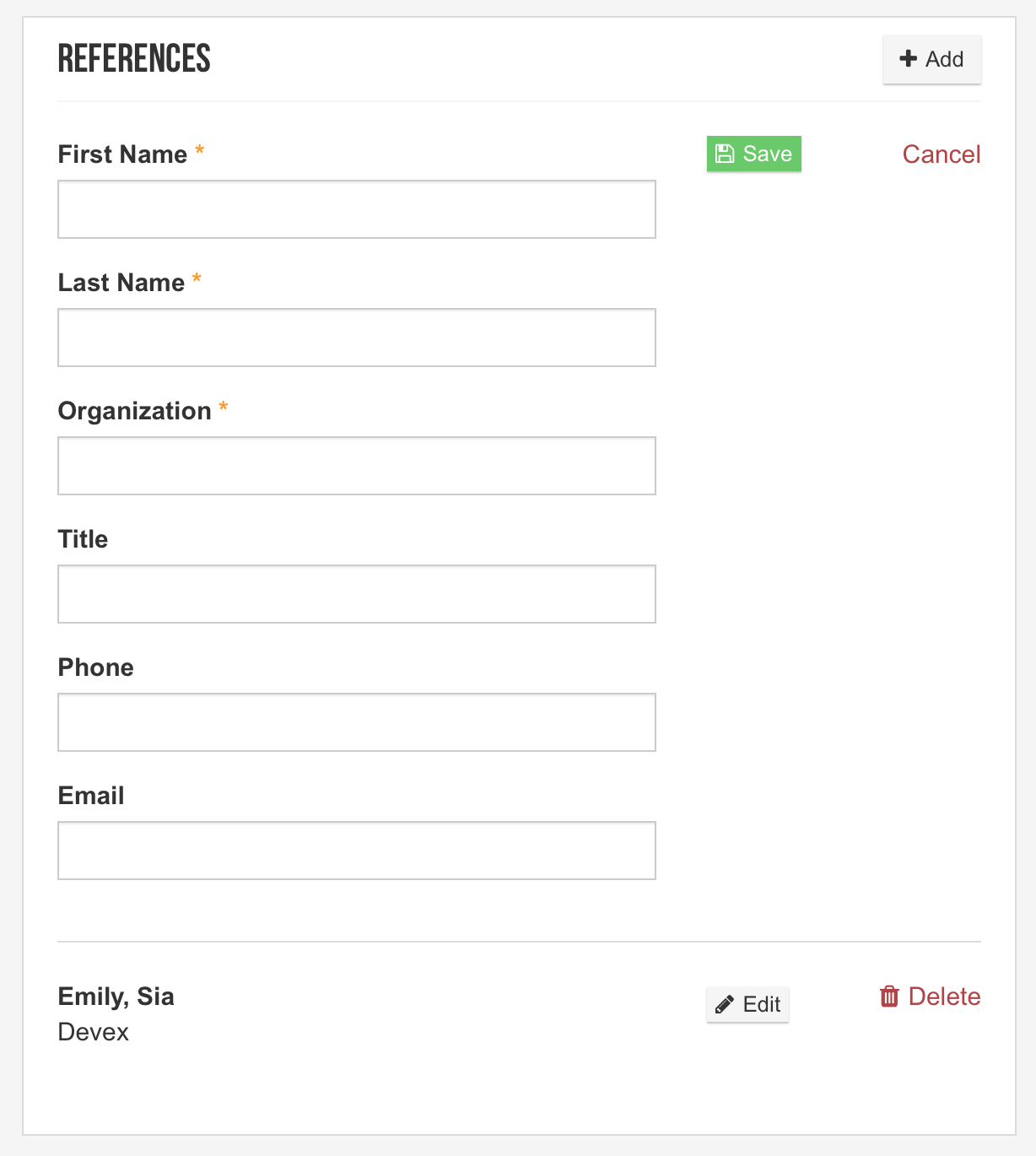 We understand that our members have concerns about the privacy of their references. You may leave this section blank and just enter them in your uploaded CV, as CVs will only be accessible to our member recruiters.
8. Associations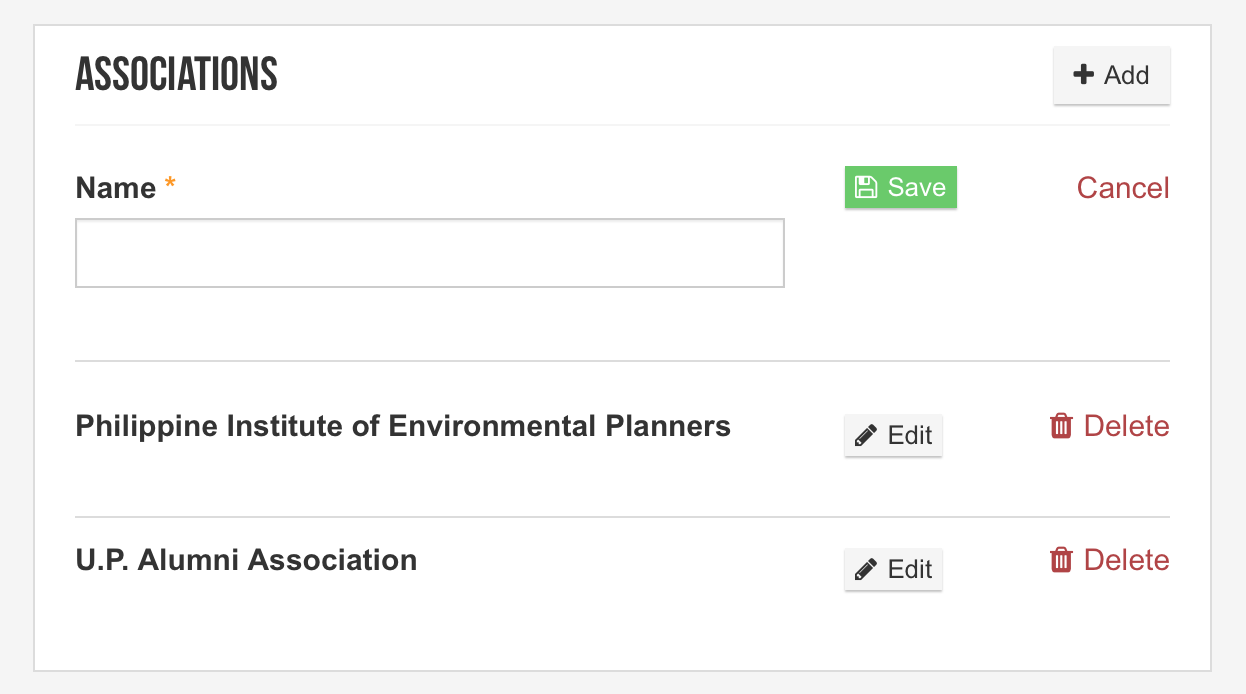 The Associations section is where you enter the names of the associations, organizations, and groups you are affiliated with. There are no date fields here, so it will not show when you are/have been a member of these groups, but again, you are free to show the comprehensive version in your uploaded CV.
9. Work Samples, Links to My Work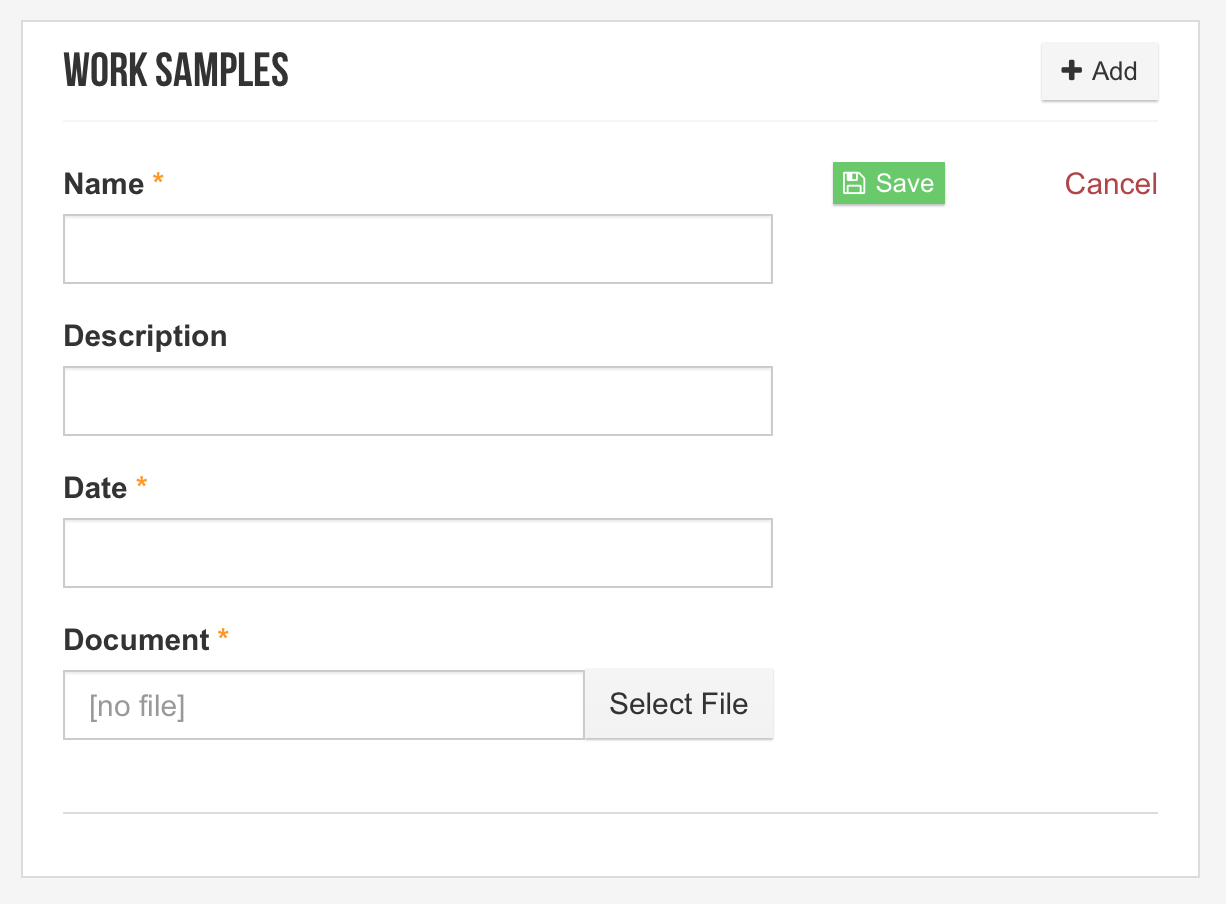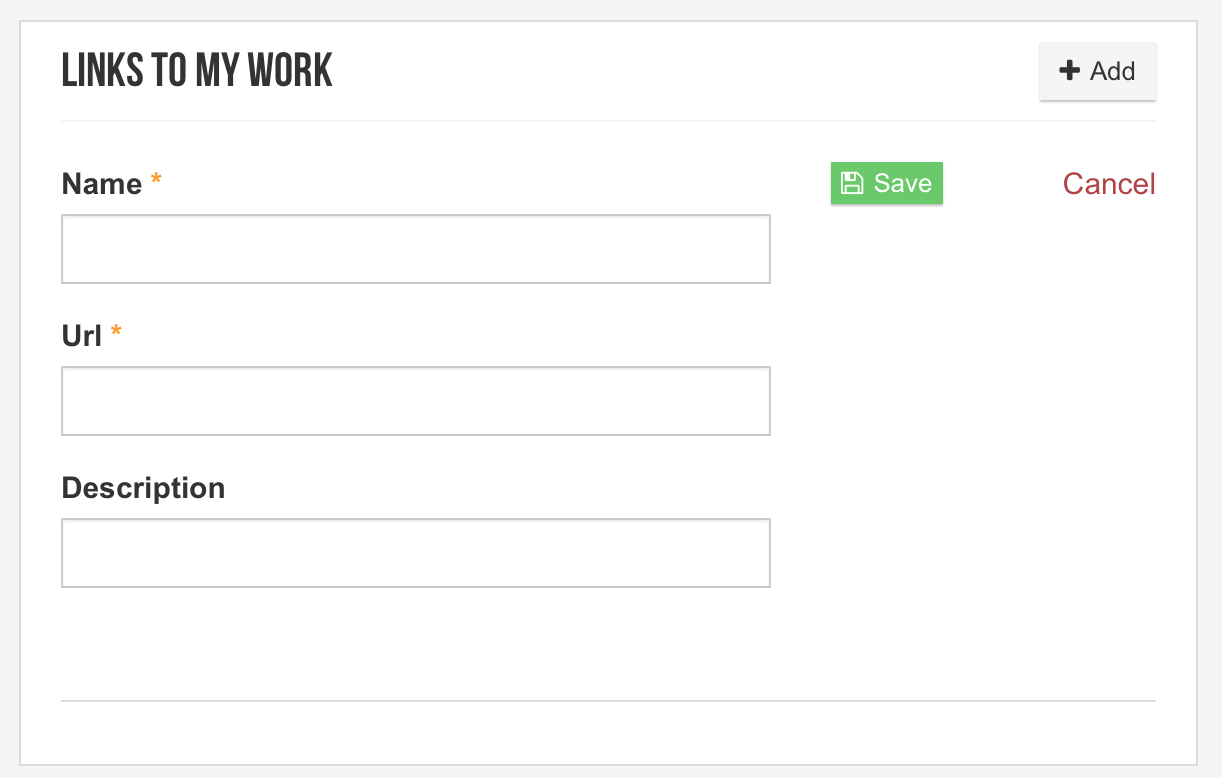 The Work Samples section is where you may upload the files of your work that you would like to include in your Devex profile. On the other hand, the Links to My Work section is where you could enter the names and links of websites where your work is featured online.
10. Contact Details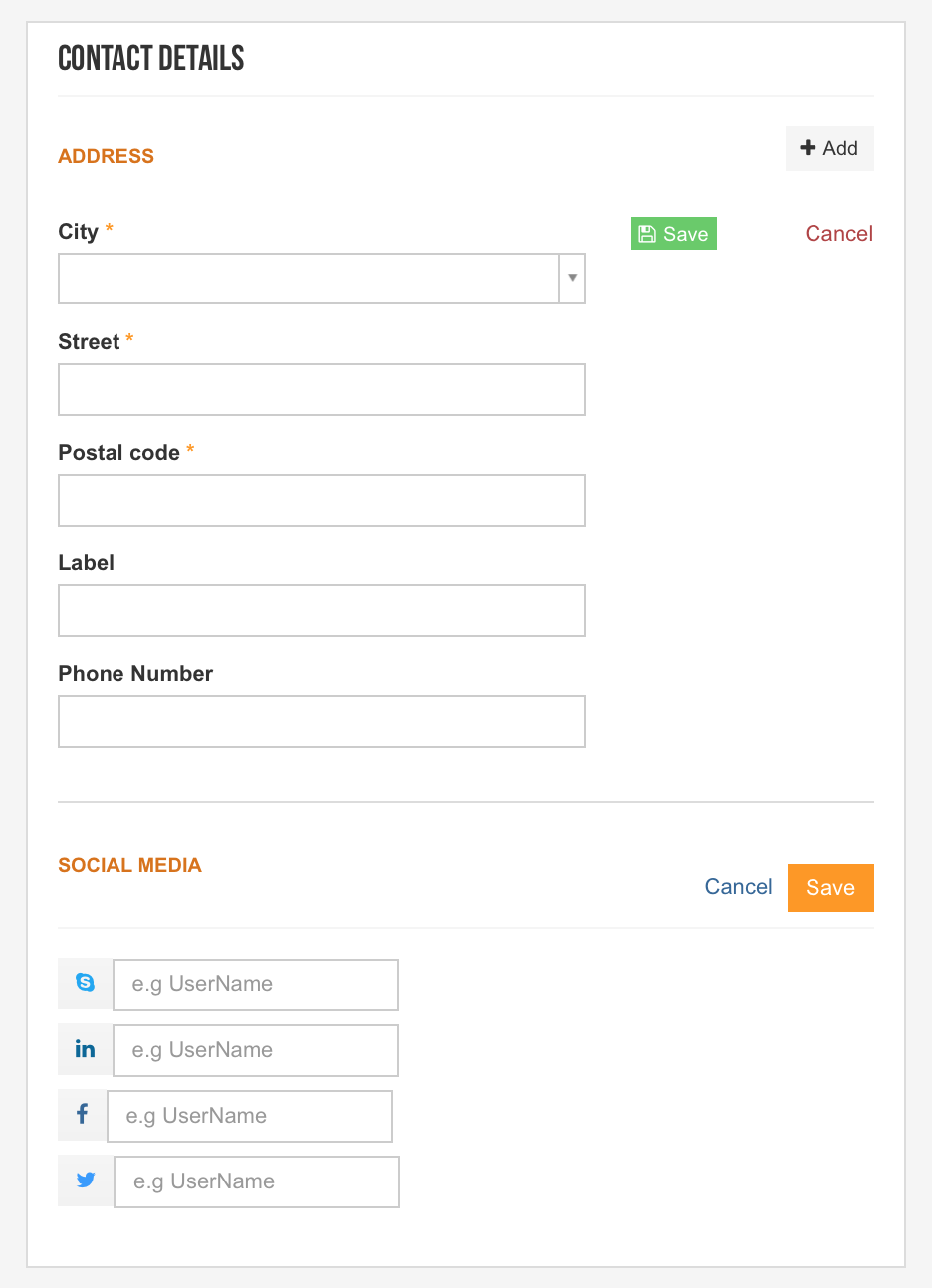 Our recruiter members will still be able to contact our candidates through the Devex site, even if there are no contact details found on the member's profile. However, some recruiters are also interested in contacting candidates right away via phone call. You may add your preferred contact number at the Address part under the Contact Details section of your profile.
The Social Media part is also where you may showcase your profiles from other social media. Just make sure that the profiles that you will share here are presentable and accessible by recruiters.