Watch this short video or read the steps below on how to search and track funding opportunities.
1. Access the funding search by clicking on Funding on the top navigation bar.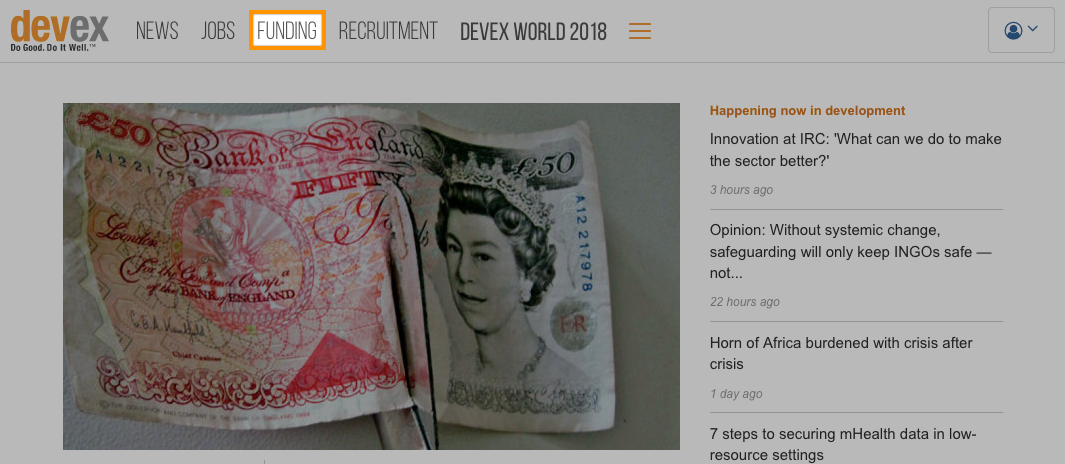 2. Search through the different reports by looking at all of them or by selecting only specific ones. You can differentiate the reports in the list of results by the colored line on the left of each opportunity title.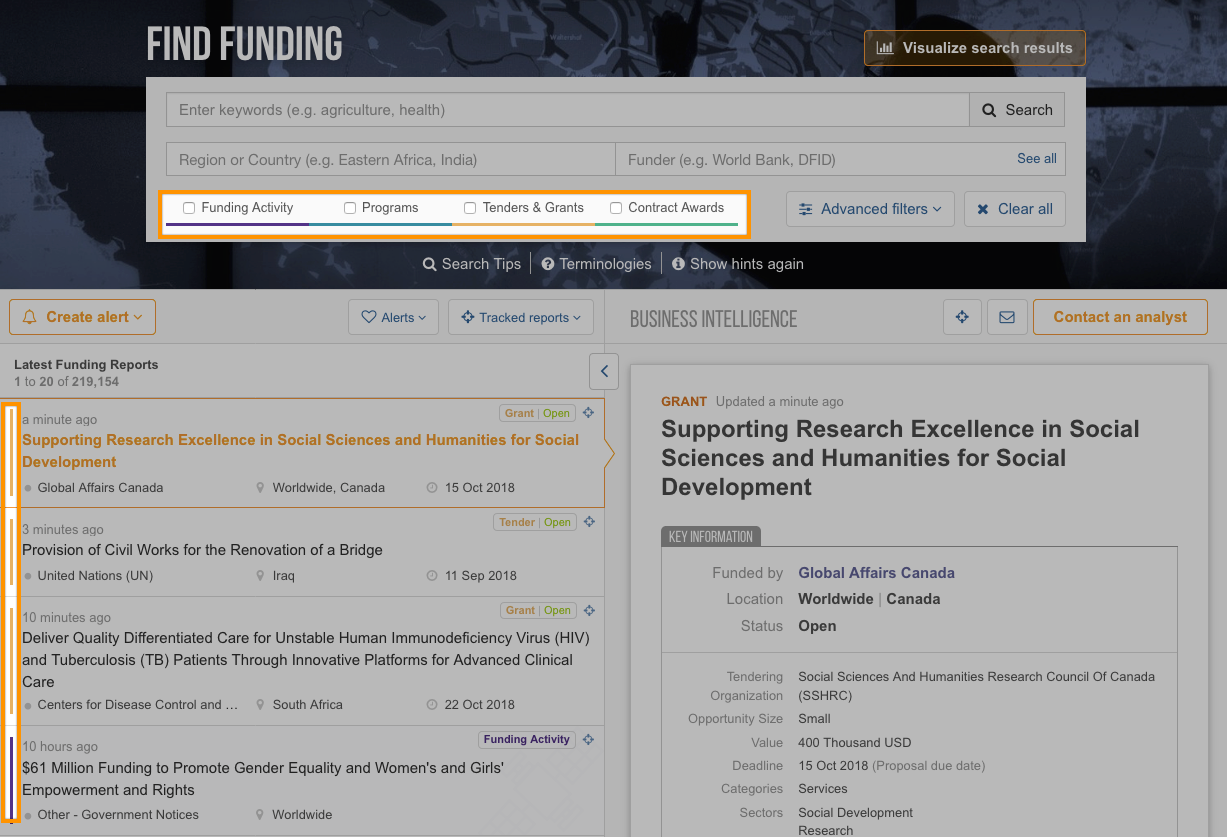 What are the differences between the reports?
The funding activity report database (purple) contains information throughout the funding cycle such as press releases at the very early stage, media coverage, donor country strategies, operational updates and direct insights from our team based on outreach to major donors, foundations, private sector entities, media, and philanthropies. You can find information related to new loan approvals, partnership announcements or funding related initiatives in this database.

A donor releases a program report (blue) before the tendering process begins. The report shares project details like background, components, total budget and possible sectors of engagement.

Tenders, grants and open opportunities (orange) are then released under the umbrella of this program report, there may be a number of separate tenders released calling for proposals for particular segments of the project, or just one for the entire project.

Contract awards (green) include information on recently awarded projects. If you filter based on Contract Awards you can also access shortlist reports, this lists the organizations shortlisted for a particular project.
3. Refine your search by using keywords, filters for countries, funders and topics, or by using the advanced filters.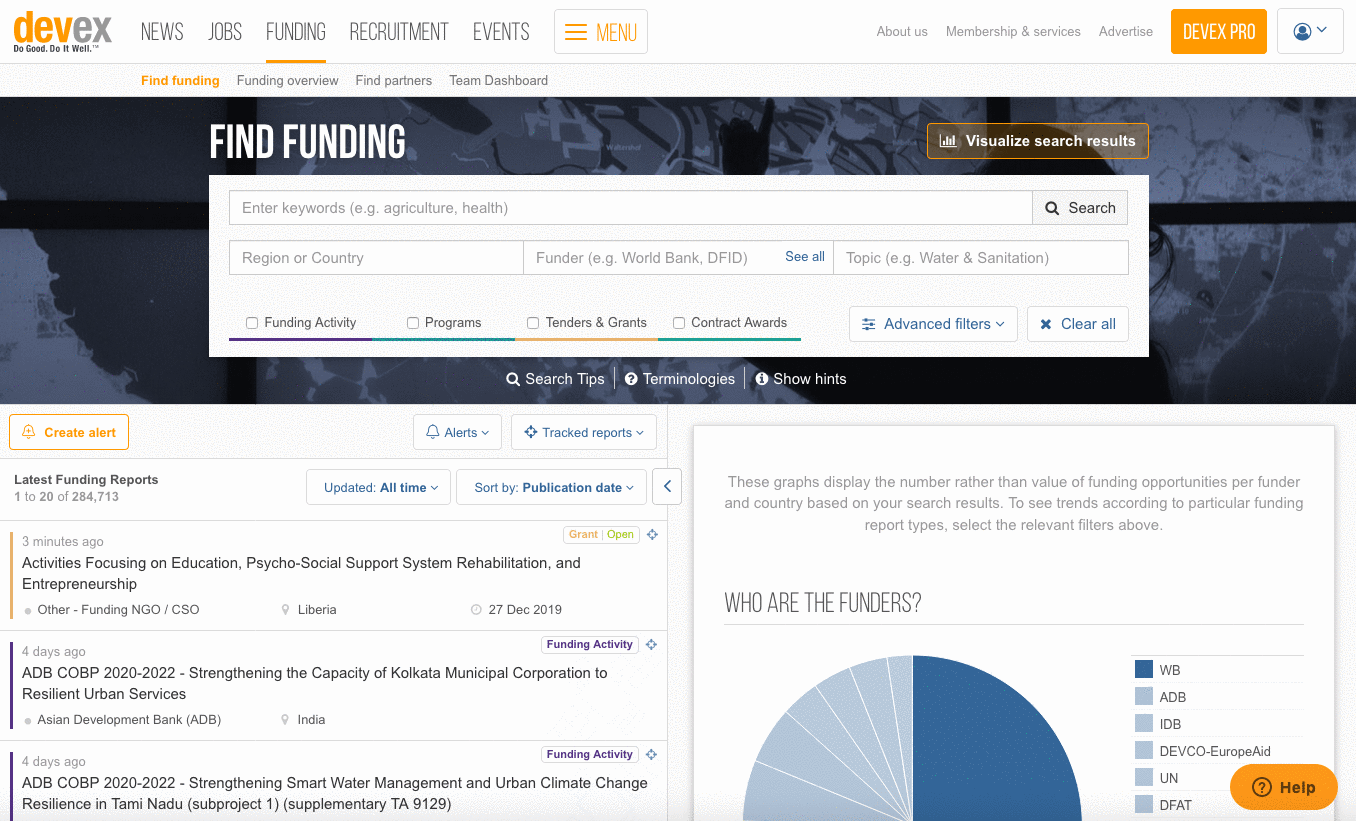 Tips:
By default the search results are sorted by publication date. But once keywords are used the sorting switches to relevance and shows results for the last month. To see more results change the 'updated at' filter to All time.

If you want to search for funding in a number of countries in the same region it's better to include the region name (e.g. West Africa) rather than all the specific countries in the search box.

The advanced filters that are accessible depend on which reports you would like to search through. For example, if you would just like to search through Programs and Tenders & Grants, the filters include type, status, opportunity size, category and last updated. All other filters not related to those reports are greyed out and become accessible once you select the related report.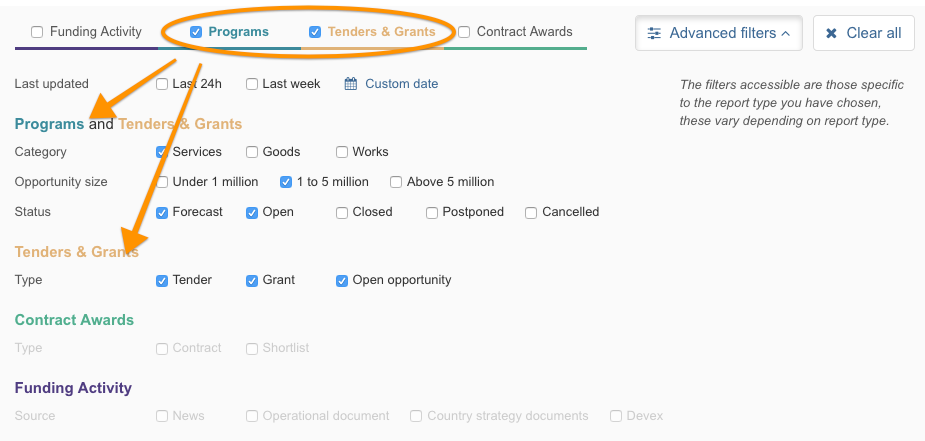 Note: please see this link to all the funding sources we currently track.
4. Skim through the results, and click on them to see the full text of the opportunity on the right. This allows you to assess the relevance of opportunities quicker and without having to leave the page.